The Coat Trilogy
So I think we can safely say the balmy days have left us behind and we are now fully into Autumn/Winter and coat embracing!
I have been asked quite a few times recently to do a blog on coats…so here we go!
Coats are a tricky one as I am afraid there is no way round it- you do need more then one to cover all bases! In fact, I would go so far as to say you need three…and here's why…
Every day/every weather
This will be the most practical coat you own, we all need something that really is going to weather any storm…and in my case, the trips to the playground/school pick up / dog walks / general "please just keep me warm and dry…nothing else!"
So-called 'duvet coats' are great as they offer warmth and protection from the elements. Whilst there is little that can be done to style a padded coat to show off your figure (save perhaps a belt if you have a defined waist), you can make sure the colour is fabulous. You can go one of two ways; either a versatile neutral accessorised with a colourful scarf, or one of your favourite statement shades. Either way make sure the colour that is next to your face it really working wonders for you.
Last year I finally got myself a Schoffel Coat . Cue large intake of breath as they aren't cheep…but boy do they deliver on warmth! It is light, cosy and doesn't swamp your body in fabric. I just wish I had invested in it years ago as since I wear this coat EVERY DAY in winter- its cost per wear suddenly makes it more reasonable!
With any practical coat (read…not massively flattering or glamourous!) try to them wear a scarf in a great colour for you to give you a bit of "pop" and bring some interest to lift the look. Here's me wearing mine with a salmon pink scarf….(please excuse my children in the picture…it was the only one I had to show you to make the point!)
Remember to also consider the length of your everyday coat, if you drive: have a shortish coat but I would also suggest this if you are on the petite side ….I liked this one from Topshop:£70
My parting shot with every day coats is "You get what you pay for"…if you need something to deliver in warmth, protection and practicality…spend the money here.
Smart/casual everyday
Whilst wrapping up in something practical is great, there will also be occasions when you want something a little chicer. Going to meet a friend for lunch or going to an event during the day will require something less practical and more elegant.
A belted , single breasted, swing or military coat…there is a plethora of choice out there….just make sure you pick a style that is flattering to your shape and proportions.
I love these ones:
Zara  £119
Hush £170
And my current favourite…a subtle leopard print coat from Bodega Womenswear in Cheltenham and Worcester (new website being launch on Friday 3rd November) £170.00
Trench coats are a must in my opinion and they don't cost a lot. The reason I like them is because they are generously cut- therefore allowing to go over a suit or a jacket – so its a great option if you need to look smart  and its raining so you need proper protection. Massive range out there but my preferred place is Gap…great price and quality.
Gap: £69.99
I have a 40& discount code for Gap which runs until Sunday…put this in at checkout…DH963ZMB699T
The only thing to be aware of with Trenches is the fabric as they can be quite stiff and hard. Heavier fabrics are fine if you have  a straighter body shape (although make sure you belt them at the back to keep your look uncluttered). If you're curvy, choose a fluid fabric that will skim your curves and create shape at the waist.
Evening
When you're heading out for a night on the razzle(!) you don't want to be hiding your fabulous outfit under a dowdy coat. This is the time you can flex your inner drama-queen and go for something with a little WOW factor!
Velvet, faux fur trims, jewelled embellishments, bright colours and embroidery are all big news this season so you may want to embrace one or more of these trends. This is the coat to have fun with and it should make you feel like a million dollars so go to town; practicality out the window- its all about the glamour!
I loved these ones…
Zara £119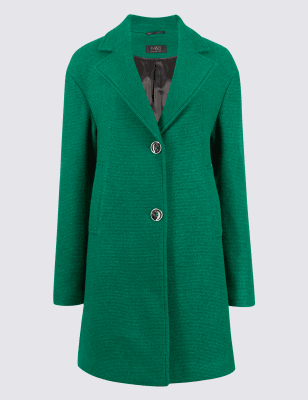 M&S £89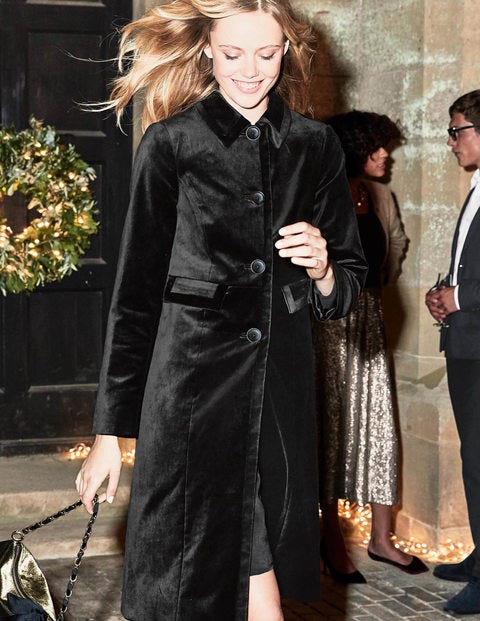 Boden: £150
I hope that helps and gives you a bit of a heads up….any questions- just hola!
As I said in my newsletter- I am now fully booked until the mid-January…but I have a waiting list in operation which does move due to people needing to change appointments…so if you would like to book in with me for January but also put your name on the waiting list in case something comes up sooner- please let me know.
Any voucher requests for Christmas presents- just let me know. Any of my services are such a great present for someone who would love to know how to dress well and needs a real confidence boost if they have lost their mo-jo. A present that lasts a lifetime!!
xxx